Another year has passed, which means it's time for a new batch of hip-hop artists to grace the XXL Freshman cover.
Congratulations to the class of 2017 made up of Kamaiyah, A Boogie Wit Da Hoodie, PNB Rock, XXXTentacion, Playboi Carti, Madeintyo, Aminé, Ugly God, Kap G & Kyle.
As I go down the XXL Freshman list, there doesn't seem to be anybody that I think is really out of place. I think there are a couple of snubs who should have made it this year, but we'll get to that in another piece.
XXL Freshman 2017
First, we've got A Boogie. I think he's a pretty dope artist, but I personally thought it was a little early to stick him on the list. He has been grinding the last couple of years, has his hit record "My Shit" and has gotten the nod from Drake, so I ultimately don't think the pick is too crazy.

Next, we have Kamaiyah. Shoutout to her for being the only female on the list, but I'm also a little unsure of this pick. Not because of talent, just because of overall culture impact. Of course, she's had a number of great features, like in  "Why You Always Hatin'" by YG. But to me, she doesn't have that stand alone record making it easy to solidify her cover spot. Nonetheless, if she continues producing quality work and building her catalog, I think up is the only way to go.
This brings us to PNB Rock. And this I thought was a no brainer. I didn't think PNB would be the type of artist to accept a freshman cover invitation, but his spot on it completely makes sense. He's got a number of good songs, he delivers great hooks, he can actually rap and I think he's got a bright future ahead.
Up next is Florida's own XXXTentacion. This pick surprised me but didn't at the same time. For about the last year and a half, X has built quite the fan base – arguably the largest on this cover. X had a wave, but it wasn't till 2016-2017 that his tsunami came. It was about Christmas time of last year that I heard his hit single "Look At Me". The unmixed vocals and heavily distorted bass track oddly gained more buzz while he was locked up and doing time. After his release, he engaged in beefing with a number of artists, including Drake, helping propel his name into the spotlight a little more. With a sound as diverse as X's, there's potential for the Broward County rebel to become a staple in the game.
Up next we have Playboi Carti, who I thought could have made the 2016 cover. About two years ago he released his single "Fetti" and then he kind of just fell back. It seemed as though he & friend Lil Uzi Vert would ascend to new levels at the same rate, but Uzi sky rocketed off to another planet by himself. But Carti came back this year strong. He dropped his first self-titled project, Playboi Carti, and released what is probably the song of the summer in "Magnolia". If he keeps playing his cards right, I think he'll be able to fill a lane just like Uzi, Kodak Black and 21 Savage have all done to really own their spot in the game.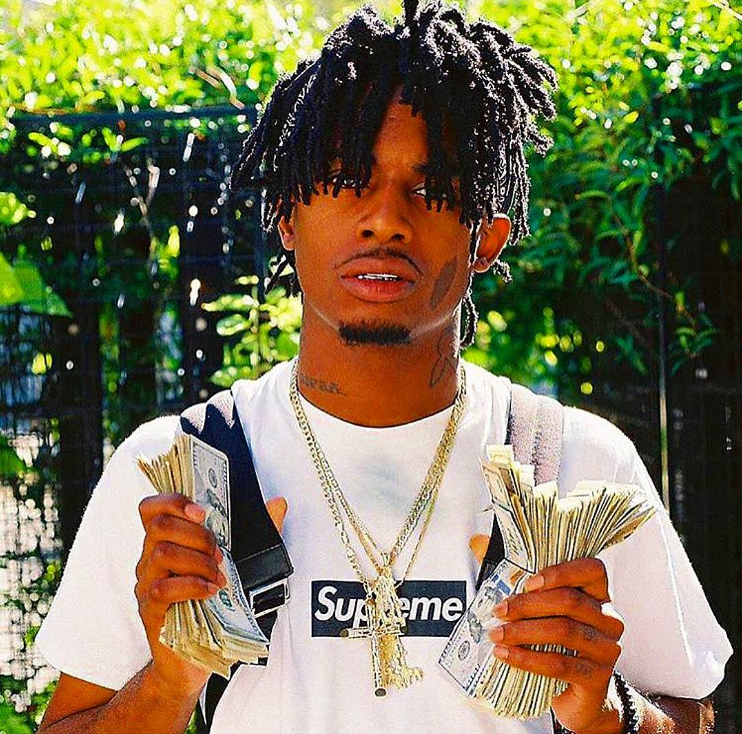 Next up – Madeintyo. You are probably familiar with Madeintyo from his hit single "Uber Everywhere" and other hit songs like "I Want". I didn't think Madeintyo would make the list because of lack of catalog, but I'm glad he did. He had a very slept on mixtape titled You Are Forgiven and he's getting bigger by the feature. Tyo now has 2 Chainz and Big Sean on two of his biggest singles. With a special ear for bangers, the right producer behind him in K.Swisha and a little more consistency – I think Madeintyo has potential to have a breakout year.
Up next is Aminé, and I couldn't be any happier seeing a northwest region artist make the XXL Freshman list. But I will say I thought this was a premature pick. I think out of all the artists, Aminé is the one who lacks most when it comes to catalog strength. He does own the mega-hit "Caroline", that I thought was an instant hit as soon as I heard it. But that was followed up by "Red Mercedes" – which I thought was good, but not great. It can be a blessing & a curse creating a massiv hit, because this has now become the standard listeners expect you to consistently perform at. And in this rap game, you're only as good as your last at bat. That being said, I think there's a huge ceiling for Aminé with more hits in store that I can't wait to hear.
Next stop – Ugly God. I became familiar with Ugly God earlier last year from one of his hit singles "Beat My Meat". The iPhone ringtone sampled record garnered a ton of attention even after Ugly God took it down & reposted the song three separate times. While he acknowledges he doesn't have the best pen, he's cultivated a fanbase larger than any one of his songs. What's most impressive is the run he's been able to go on having not even dropped a project yet! If you're not a fan of anything else Ugly God does, at least appreciate the bangers that he self produces.
Kap G is an artist who is quickly becoming one of my new favorites. Though I'm not very familiar with his entire catalog, when I have heard his records, they're rhythmic and they're banging. "Girlfriend" and "Freakin 'N' Geekin" are great examples of this. Kap certainly has the sound that qualifies him for the cover. If he keeps laying down the right building blocks and continuing to link up with the right artist for features, I think there's potential for him have one of the bigger waves in this new generation of hip-hop.
Last but not least, we have Kyle. He's one of the other few artists on this list that I don't believe had a qualifying catalog. But, what he did have this year was a top 5 song on Billboards top 100 with "iSpy" feat. Lil Yachty – which I believe is why he earned a spot on this year's XXL Freshman cover. He does have another song titled "Doubt It" that I also really enjoy, so I hope that as Kyle continues to grow, we continue to hear more hits like we've heard so far.
That's my breakdown of this year's XXL Freshman list. Tell us what you think. Was there anybody on this list you thought should have been kicked off? Were there any snubs? Get in the comments and definitely let us know.
To stay up to date with all the latest hip-hop news, be sure to follow us on Facebook & Twitter.
Comments
comments